Mission: Alleviating complex social challenges.
Vision: Through empowerment and hope, build a community that fosters diversity, inclusion and health.
We work to:
Reduce harm; a nonjudgmental approach that recognizes drug use exists and so attempts to minimize the harms and risks associated with drug use.
Promote and support the development of 'safe' environments throughout the region for lesbian, gay, bi-sexual, transgender, two-spirit, and questioning (LGBTQ+) citizens.
Help improve the quality of life for persons infected and affected by HIV/AIDS and help reduce the spread of HIV and other STIs, through education and prevention programs.
THE NEEDLE DISTRIBUTION SERVICE
The Needle Distribution operates under the principles of harm reduction; a nonjudgmental approach that recognizes drug use exists and so attempts to minimize the harms and risks associated with injection drug use. It does this by providing injection equipment, factual information, and referrals to other services all while ensuring that service users are recognized and respected as people first. Service users are also encouraged to return their used needles, thus ensuring proper disposal and reducing the chances of needle-related accidents. A large 24/7 disposal bin donated by Downtown Moncton Centre-ville Inc. is available outside the building (near back entrance). The Needle Distribution service entrance is at the front door.
TAKE HOME NALOXONE KITS
If you or a loved one is at risk of opioid overdose, you can obtain a free Naloxone kit at our office after completing our in-house training OR the online course below.
OVERDOSE PREVENTION SITE

The ENSEMBLE Overdose Prevention Site is a welcoming, safe and supportive space for people who use substances. The OPS provides trained staff who oversee the consumption of uncontrolled substances and provide rapid intervention in the event of an accidental overdose. The site offers:
Staff supervised injection booths
New consumption supplies for use at site
Harm reduction education and support
Connections to other services on site: counselling, health care
Machine on site to test substances
*Smoking of substances is not permitted at the site.
HOLDING HOPE
Holding Hope is a peer-led, biweekly virtual support group for those affected by a loved one's substance use. For more information, please email holdinghopenb@gmail.com.
TELL IT TO ME IN PLAIN LANGUAGE
Tell it To Me in Plain Language is a project that was created to help reduce the health effects that result from drug use. Educational resources have been developed for people who use drugs and their service providers. Please contact us if you are interested in learning more about our harm reduction resources such as posters, flyers and videos.
Below is a video entitled "Seeing Beyond the Substance" that we created to help fight stigma that is often faced by people who use drugs.
We created a short summary of the 2018 New Brunswick Harm Reduction Survey to highlight some of the key findings. The statistics below show the importance of having needle distribution services in our province.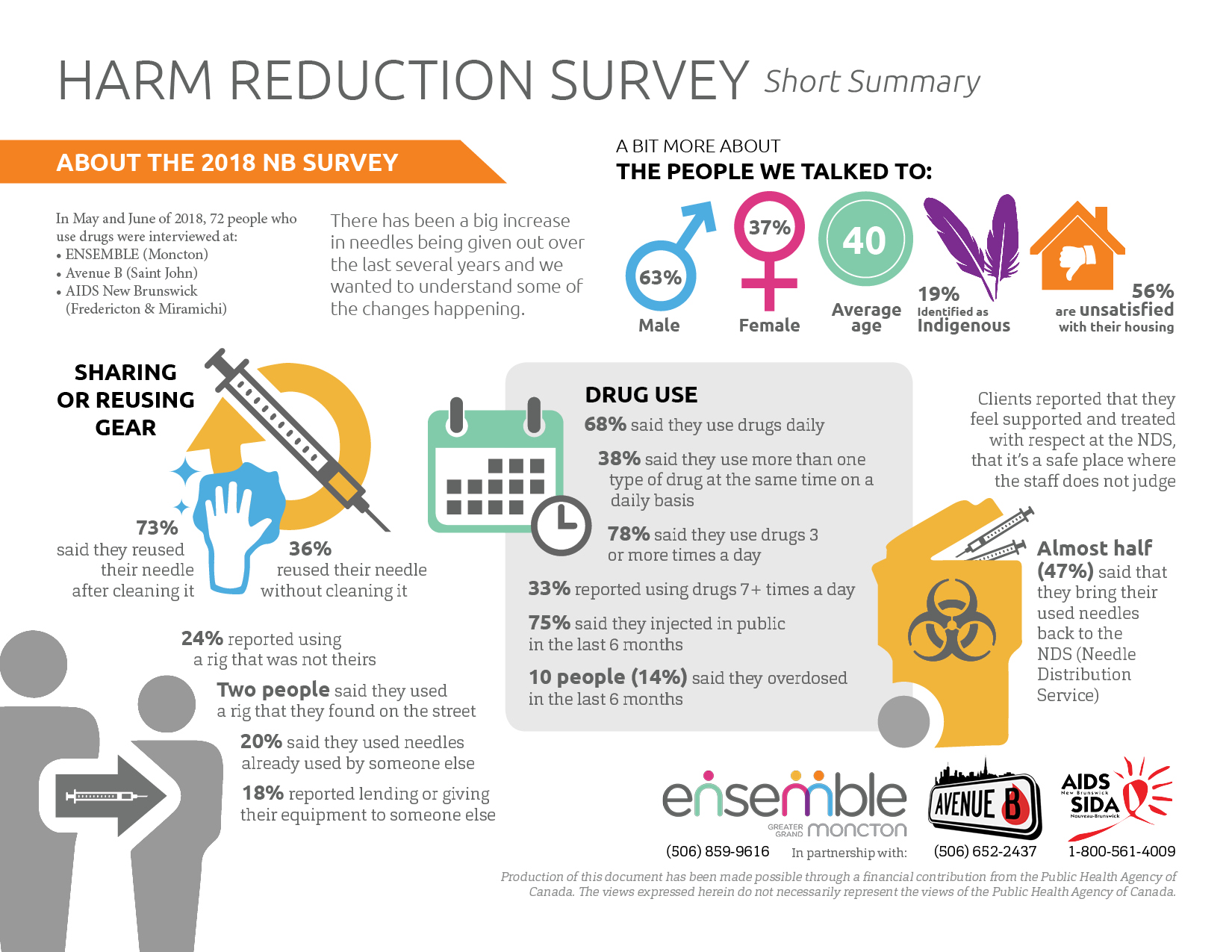 In the 2018 NB Harm Reduction Survey, 14% of survey participants said that they had overdosed in the last 6 months. We compiled a small list of important tips to preventing an overdose. To acquire some of our various harm reduction resources or to book a presentation, please send an email to general@ensemblegm.ca .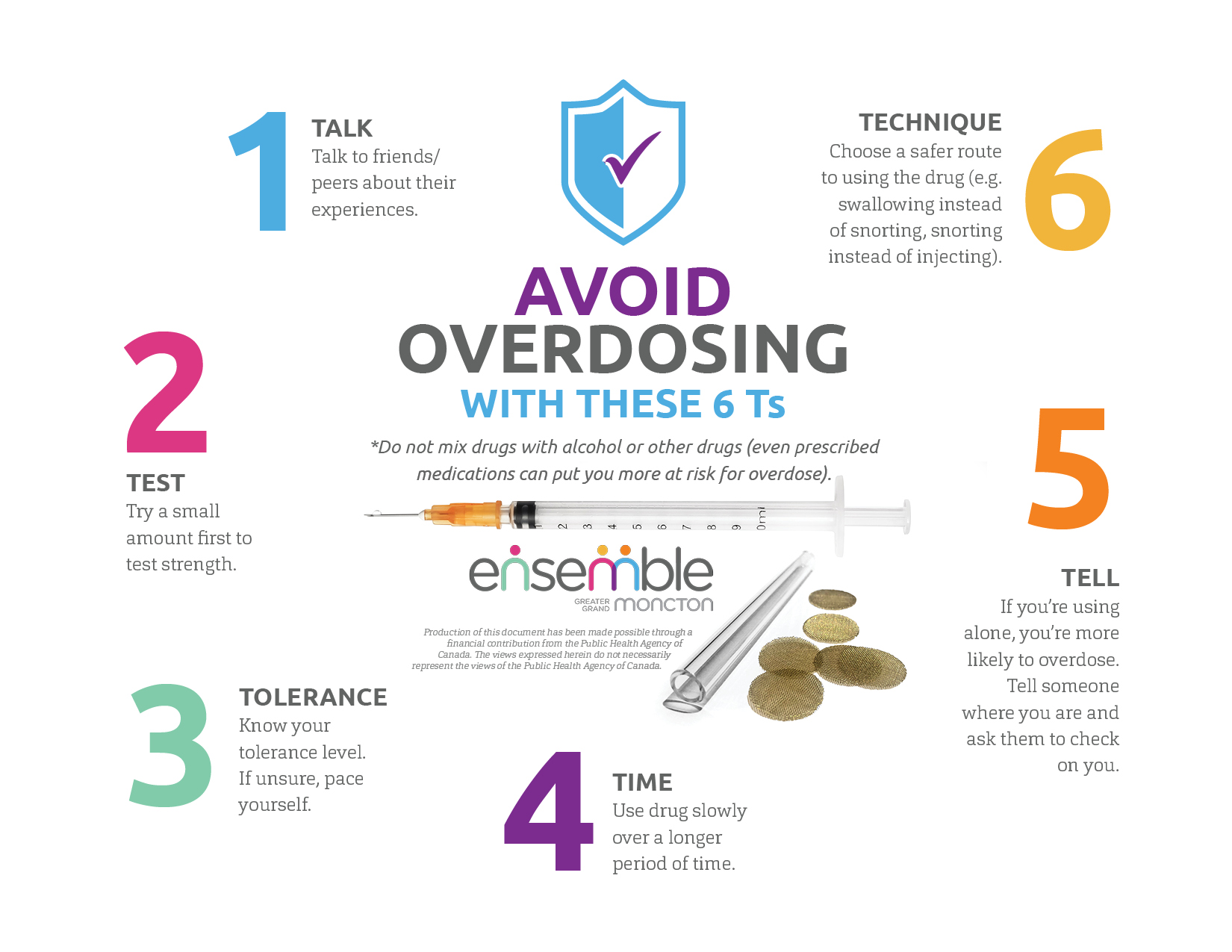 The primary focus of Safe Spaces is to promote and support the development of 'safe' environments within the region for lesbian, gay, bi-sexual, transgender, two-spirit, and questioning (LGBTQ) citizens. Particular emphasis is on the well-being and personal safety of youth. Our coordinator works within the service region to initiate and support the development of 'safe spaces' including: a drop-in for youth, doing workshops in schools and in the community about sexual orientation, gender identity, homophobia & transphobia; and to support Gender & Sexuality Alliances in High Schools.
SAFE SPACES WEEKLY DROP-IN
The weekly drop-in is for LGBTQ+ youth (ages 13-18) and their friends, where they can socialize, make crafts, play games, have group discussions, watch movies, etc. in a positive environment that celebrates diversity. The drop-in takes place at YMCA Moncton, North End (70 Twin Oaks Drive) on Thursday nights from 6 PM – 8 PM. We follow the school calendar, so when there is no school there is no drop-in (holidays, storms, summer break, etc).
ALLY INITIATIVE
The Ally Initiative was implemented to help LGBTQ youth identify people that are supportive and inclusive. By displaying your Ally card (provided by our Safe Spaces coordinator), it becomes easier for youth to identify places where they feel safe and where they can talk to someone that celebrates diversity.
An ally can be anyone who works with youth or who encounters youth in their lives. They could be parents, school personnel, social workers, nurses, etc. Their role is to be supportive and to advocate for youth by offering support, organizing or supporting awareness activities, intervening when witnessing homophobic, transphobic, biphobic or heterosexist behaviors, and providing a safe environment.
Upon completion of the workshop, you will receive a certificate. If you wish to display a Safe Spaces Ally Card at your workplace, a current criminal record check is required (received within the last 12 months). Your name can also be added to the regional ally list.
For more information on our Safe Spaces program, you can email or call us at:
general@ensemblegm.ca
Phone: (506) 859-9616
Our office is located at 80 Weldon St. in Moncton, NB.
Fax : (506) 855-4726